The Far Edge of Fate - 3.55b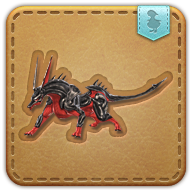 Prédominence
(

)
Avantage (

)
Désavantage (

)
Neutre (


)
---
PV
420
---
Attaque
45
---
Défense
45
---
Vitesse
★ ★ ★ ★
---
Attaque Auto.
Cible unique
---
Destruction




---
Coût
15
Action de combat
Technique

Jappement
---
Description

Réduit de moitié le temps de recharge pour l'invocation des mascottes.
Durée : 10s
---
Zone

---
Coût action

20
---
Type

Spéciale
Information
Dès leur plus jeune âge, les limiers des enfers développent une acuité visuelle extrême afin de survivre aux périls du monde du néant. S'ils abhorrent d'ordinaire la compagnie des hommes, ils restent très fidèles envers les rares élus qui parviennent à gagner leur confiance.
Invocation
Vous appelez votre mascotte chiot des enfers. Petit du limier des enfers, son regard et son odorat sont déjà particulièrement affûtés.
État
Disponibilité
Disponible
---
Date de début
---
Date de fin
Méthode
Obtention

Avoir fait partie des 10 premiers au classement solo de The Feast pendant la saison 3
OU
Récompense du haut fait «Traiteur pour festin III»; Comptabiliser 300 proies à The Feast.
---
Quête
---
PNJ

Jonathas
---
Lieu

Gridania - Vieille Gridania ( X : 6 Y : 11 )
---
complement