The Far Edge of Fate - 3.55b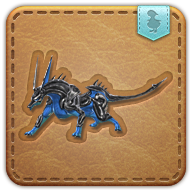 Prédominence
(

)
Avantage (

)
Désavantage (

)
Neutre (


)
---
PV
440
---
Attaque
65
---
Défense
35
---
Vitesse
★ ★ ★ ★
---
Attaque Auto.
Cible unique
---
Destruction




---
Coût
20
Action de combat
Technique

Dents de lait
---
Déscription

Inflige des dégâts équivalents à 70% de sa solidité au bouclier ennemi. N'a aucun effet si ce dernier est déjà détruit.
---
Zone

---
Coût action

30
---
Type

Destruction
Information
Les petits du limier fantasmagorique doivent apprendre très tôt à défendre leur territoire dans le monde du néant, et donc à tuer. Solitaires de nature, il est néanmoins possible de les apprivoiser, auquel cas ce sont des compagnons tout à fait dévoués.
Invocation
Vous appelez votre mascotte chiot fantasmagorique. Si jeune et déjà l'instinct de tuer.
État
Disponibilité
Disponible
---
Date de début
---
Date de fin
Méthode
Obtention

Avoir fait partie des 10 premiers au classement équipe de The Feast pendant la saison 3
OU
Récompense du haut fait «Traiteur pour festin III»; Comptabiliser 300 soutiens à The Feast.
---
Quête
---
PNJ

Jonathas
---
Lieu

Gridania - Vieille Gridania ( X : 6 Y : 11 )
---
complement